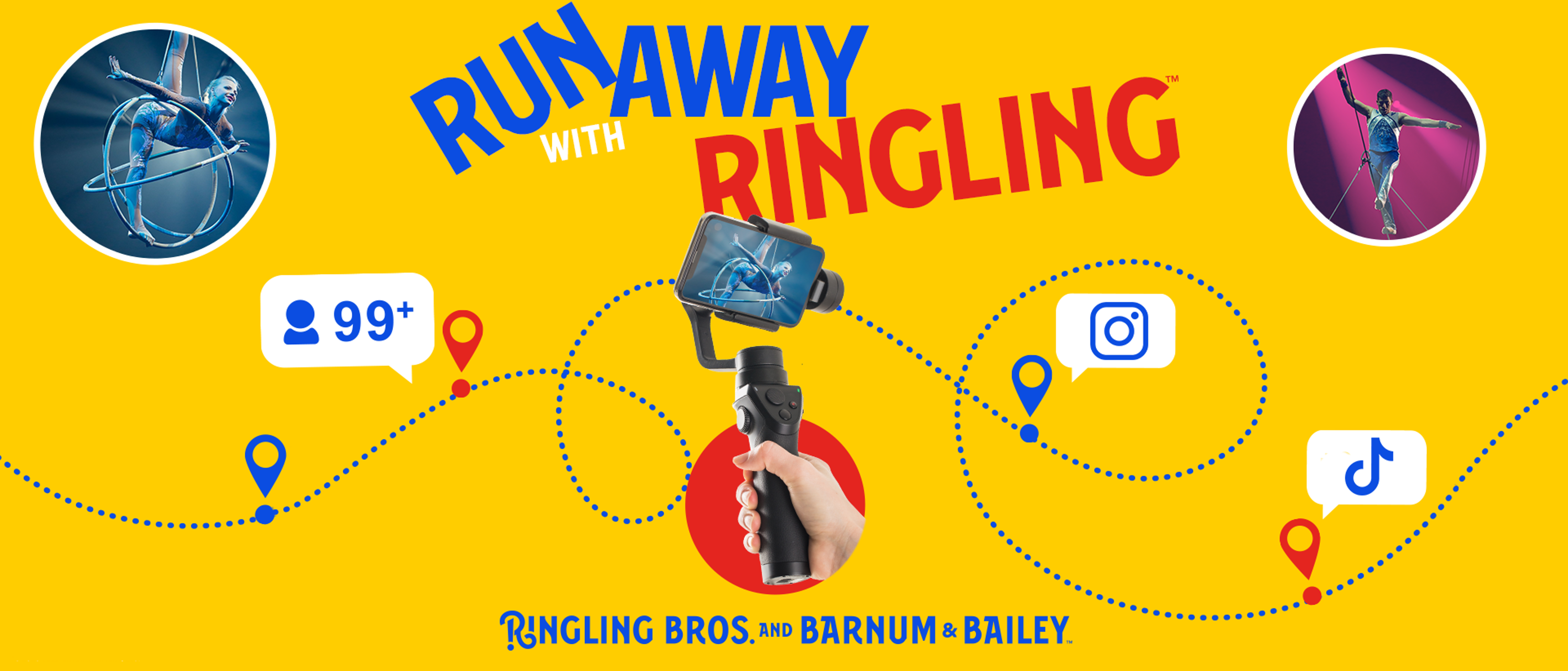 Once-in-a-lifetime opportunity for the dream job adventure of a lifetime!
It's officially official – we're giving one lucky someone the opportunity to run away and join the Ringling Bros. and Barnum & Bailey team!
If you're a creative, multi-talented content creator and storyteller, here's your chance to leave it all behind and join the circus as our official Social Correspondent and Creator, traveling with The Greatest Show On Earth as it tours North America starting in September.
If you are able to juggle multiple social media accounts, capture photos and video faster than a rocket, and have a passion for creating spectacular, jaw-dropping, applause-worthy content, now's your chance to Run Away with Ringling!
Our Social Correspondent and Creator will have the opportunity to work closely with Ringling performers, visionaries behind the reimagined Ringling and more to bring The Greatest Show On Earth to life through social media for fans across the world.
Your performance will include:
Starring as a "show guide" on Ringling social media platforms connecting with fans and followers.
Joining in on Ringling Bros. and Barnum & Bailey performances and capturing behind-the-scenes content, including exclusive interviews with our specular performers, backstage photos/video and more.
Making The Greatest Show On Earth come to life through creating (producing, shooting, editing and publishing) engaging social content for a variety of social platforms – TikTok, Instagram, and more!
Connecting with fans and followers by responding to comments and messages on Ringling social pages.
Being part of our digital team of stars to create and publish original content for our website, including blog posts, videos and more soon-to-be imagined content.
Staying up to date with current social media trends and technologies, to make recommendations for new tactics that will enhance the reimaged Ringling brand.
Walking a tightrope alongside the Global Media team to dream up and implement new, showstopping social media campaigns that increase engagement and encourage Children of All Ages to purchase tickets.
Your credits should include:
A passion for live entertainment, or maybe even a hidden circus talent.
Proven ability to create engaging, on-brand social media content across all channels, most critically on TikTok and Instagram.
Strong writing and storytelling skills, with the ability to craft compelling social media posts.
Knowledge of social media platforms, including Facebook, Instagram, Twitter, TikTok and YouTube.
Familiarity with social media analytics tools, such as Hootsuite, Facebook Insights, and YouTube Studio.
Ability to work independently and as part of a team, in a fast-paced, touring environment.
A minimum of 3 years of experience in social media marketing or a related field.
Bilingual or multilingual – that's a plus!
Perks to look forward to:
Traveling across the country and arriving in a new city to explore each week.
Trading in a 9-5 desk job and traditional co-workers for flexible (and fun!) hours and entertaining colleagues from all over the world that will be flipping, singing, or juggling at any given moment.
Becoming a superstar on social media – and a part of an iconic American brand's generational history – by being the voice of the Ringling social channels.
A front row seat (and backstage pass) to every performance of The Greatest Show On Earth.
As a Feld Entertainment employee at Ringling, you would also receive robust benefits and perks, including Medical, Dental, Vision, 401K plus company match, paid sick/holiday/vacation time, employee discount programs, tuition reimbursement options, volunteer program and complimentary tickets to Feld Entertainment events throughout the year, including Disney On Ice, Monster Jam, Jurassic World Live Tour and Supercross.
How to Apply
The application period has ended for this position, but be sure to check out all the awesome job opportunities available with Ringling Bros. and Barnum &  Bailey and Feld Entertainment.
LEARN MORE